With 5 first-round picks in the OHL Priority Selection, the Oakville Rangers 05's talk about their minor hockey legacy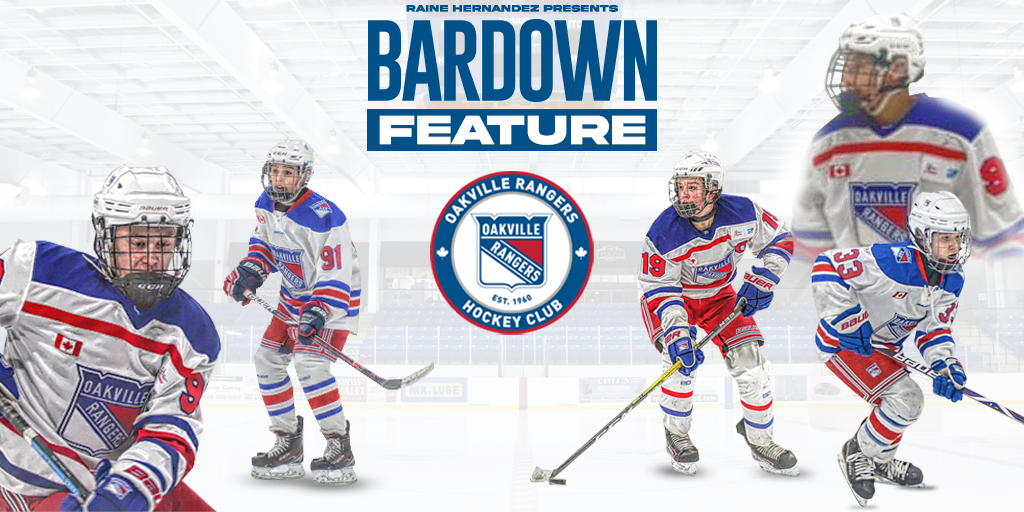 BD Hockey Feature: With 5 first-round picks in the OHL Priority Selection, the Oakville Rangers 05's talk about their minor hockey legacy
By: Raine Hernandez
Much like every AAA team in Ontario on draft night, the Oakville Rangers 05's team group chat was blowing up with joy for one another, as many got to achieve a life-long goal of getting drafted into the Ontario Hockey League, a night they had been expecting for quite some time.
However, the Rangers group chat may have been a little more active than most teams, stealing the show at the 2021 OHL Priority Selection having a total of 16 players selected, including five players that were picked in the first round of the draft.
"Everyone was so happy for each other," said Calum Ritchie, describing the vibe among his teammates throughout both days of the draft. "It really showed how close of a team we had."
Ritchie (Oshawa Generals), Matthew Soto (Kingston Frontenacs), Nick Lardis (Peterborough Petes), Luke Misa (Mississauga Steelheads), Outwater (North Bay Battalion) became the first team in OHL Priority Selection history to have five of the first 11 picks to come from the same team.
Due to the pandemic, it had been more a calendar year since the Rangers' last official game on the night of the draft. 
Long gone were the days of the Rangers being one of the most feared teams in the 2005 age group, with a large target on their back each time they stepped out onto that ice, to where their opponents would be putting in a little extra effort to try and pull off an upset.
"Every team was looking to beat us," said Misa, who went 9th overall to the Mississauga Steelheads. "I think our ability to overcome adversity really helped us."
Regarded by many as the top team in the province in the 2005 age group, the Rangers brought a style of play that was very difficult to match up against. 
"I think it was hard for other teams to keep up with our speed and pace of play," said Ritchie, when asked about describing their style of play, also crediting their ability to shut teams down defensively as well. "It was hard for teams to keep possession."
It was that type of playing style that the Rangers shared with each other that sold Ottawa native Owen Outwater to move away from home, a style and culture that was helped established from the coaching duo of Gord Hynes and Jaan Luik heading into his U15 season.
"The coaching was definitely the biggest impact," Outwater said about his decision to play for the Rangers, following a spring hockey tournament where he played with a few members from the team, getting a first-hand experience on what it was like to be a Ranger.
"[Coach Gord] was easily the best minor hockey coach I've had."
Now that their time playing together is finally over, the Rangers will always cherish the memories of championships and winning as a team, but even the little moments as well. 
"Playing games with the guys and competing in practices too," said Lardis, who is set to join the Peterborough Petes this season. "To be able to have played with those guys in games was so much fun."
On the other hand, in the five seasons in which he wore the classic white, blue, and red jerseys, right wing Matthew Soto will always cherish winning alongside his teammates.
"The success we had as a team is something I'll miss," said Soto, who went fifth overall to the Kingston Frontenacs, detailing his favourite win coming from his 'Peewee' season, winning the OMHAs and clinching a spot to play in provincials. "I think our team was very close… Everyone wanted to win for each other."
Although no minor hockey was played during the 2020-2021 across the province, the Rangers still managed to do what they had set out to achieve when they started playing together, a squad that featured a core group of players that have been playing together since they were nine years old.
To leave a minor hockey legacy.
As each member now embarks on a new step on their hockey journey, the Rangers boys plan to continue to keep in touch, despite the certainty of playing one another next season inside OHL arenas.
"We are all teammates for life," said Ritchie, who he looks forward to matching up and keeping track of his now former teammates, Lardis and Soto, who are now division rivals.
"I play them 12 times this year," he said. "Hopefully we all do great at the next level."